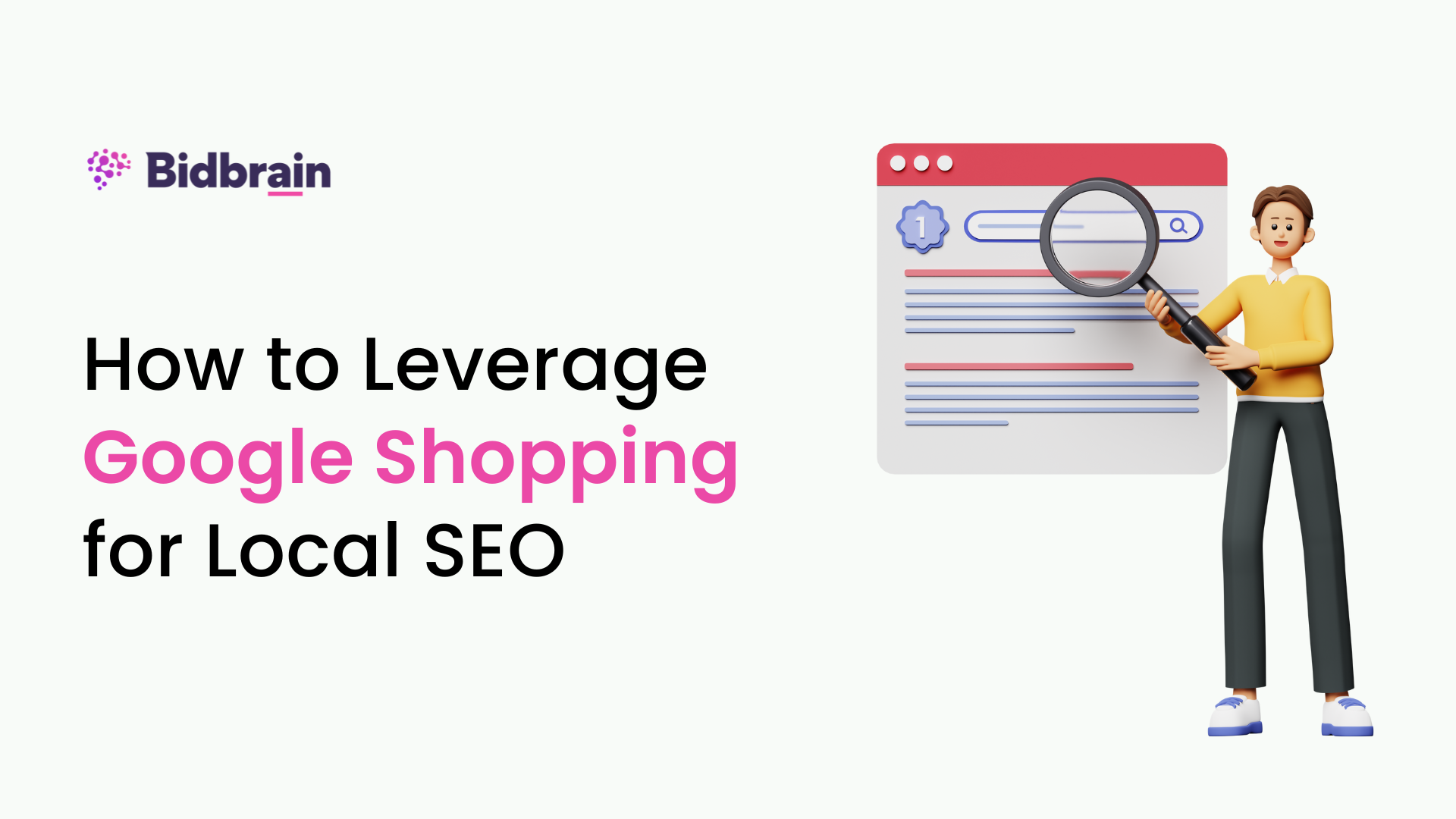 Google Shopping has significantly altered the way businesses connect with local customers and drive online traffic. Google Shopping can give an extra boost to local SEO. With Google Shopping, you can improve your local business's visibility, get more local customers, and optimise ROI. In this blog post, we will give you tips on how to make the most of Google Shopping for local SEO success. Let's dive in!
Set Up and Optimise Google Merchant Center (GMC)
If you don't have a GMC account, you'll need to create one to be able to use Google Shopping. Here are the main steps that you'll need to go through.
Start by creating a Google Merchant Center account, where you will upload and manage your product data.

Enable local inventory ads and/or free local product listings.

Link your Business profiles using your Business Profile Manager and select your business group.

Create, register, and submit feeds.

Choose your landing page type for local inventory ads.

Request inventory verification.
All this may sound like a lot, but Google got you covered—check this detailed step-by-step guide for more.
Create and Optimise Your Product Feeds
After you get your GMC account fired up, you can get down to the actual action. Start with product feed creation and optimisation. Optimising your product feed is crucial for local SEO success on Google Shopping. Remember to
ensure your feed includes accurate and detailed information such as product titles, descriptions, prices, availability, and local-specific attributes

use relevant keywords that align with your local audience's search queries to increase your chances of appearing in relevant search results

create the feed in the correct format, e.g. CSV, XML, TXT.
Check these resources on Google Merchant Help Center for more ⬇️
Also, read these blog posts for more detailed tips on how to craft state-of-the-art product feeds ⬇️
If you are using one of the most common e-commerce platforms, check out these blog posts ⬇️
Utilise Local Inventory Ads
Local inventory ads are a powerful tool to showcase in-store inventory to local shoppers. By linking your product feed to your physical store, you can display real-time product availability and drive foot traffic. Here are the main benefits of Local inventory ads.
Ability to reach local shoppers. You can connect with nearby customers who are actively searching for products or services in your area. This targeting capability increases the likelihood of attracting relevant, high-intent customers.
Promotion of in-store availability. Highlight product availability at nearby physical stores, making it easier for customers to find and purchase items locally.
Highlight your store pickup options directly on your local inventory ads. You can use the pickup today feature, the pickup later feature for local inventory ads feature to advertise products which are currently not available in your stores, or the pickup later feature for Shopping ads in conjunction with Shopping ads.
Increased online visibility. Local inventory ads are displayed on various Google platforms, such as Google Search, Google Maps, and the Google Display Network. This broad exposure enhances your online presence, increasing brand visibility and attracting potential customers.
Check this page for more.
Implement Local Structured Data Markup
Implementing local structured data markup helps search engines understand your content and connect it to specific geographical locations. Include essential details such as your business name, address, phone number, operating hours, and customer reviews. This data enhances your local SEO visibility and increases the likelihood of appearing in relevant local search results. Check this page for more.
Optimise Landing Pages for Local Intent
Landing page optimisation with a focus on local intent is extremely important for local shops since this way you're sending the right signal to Google and helping it showcase your stock to the audience that is interested in acquiring goods from you. Here's what you should do foremost.
Include local keywords. Incorporate location-specific keywords throughout the landing page content, including the page title, headings, body text, and meta tags. This helps search engines understand the local relevance of the page.
Display local contact information. Prominently display the business's local contact details, such as phone number, address, and email. This information should be easily visible and accessible to visitors, reinforcing the local presence of the business.
Utilise localised content. Create landing page content that speaks directly to the local audience. Mention local landmarks, events, or other community-specific details that resonate with local customers. This helps establish a connection and demonstrates the business's understanding of the local area.
Showcase customer reviews and testimonials. Include customer reviews and testimonials specific to the local area on the landing page. Positive reviews from local customers can build trust and credibility, encouraging others in the community to engage with the business.
Optimise meta tags and title tags. Craft meta tags and title tags that incorporate relevant local keywords. This helps search engines recognize the local intent of the landing page and can improve its visibility in local search results.
Use location-specific imagery. Include images on the landing page that reflect the local area or feature local customers. This helps create a sense of familiarity and connection with visitors, reinforcing the local intent of the page.
Implement schema markup. Utilise schema markup to provide search engines with structured data about the business's local information, such as address, phone number, and business hours. This can enhance the visibility and display of the landing page in search engine results.
Optimise for mobile devices. Ensure the landing page is optimized for mobile devices since many local searches are performed on smartphones. Make sure the page loads quickly, is easy to navigate and provides a seamless user experience across different mobile devices.
Create location-specific landing pages. If the business has multiple locations, consider creating dedicated landing pages for each location. Customise the content and contact information on each page to reflect the specific location, addressing the unique needs and preferences of local customers.
Monitor and analyze performance. Regularly monitor the performance of the landing pages using analytics tools. Pay attention to metrics such as page views, bounce rates, conversion rates, and click-through rates. Analyze the data to identify areas for improvement and optimize the landing pages accordingly.
Encourage Customer Reviews and Ratings
Positive customer reviews and ratings play a pivotal role in local SEO. Remember to
encourage satisfied customers to leave reviews on platforms like Google My Business

respond to reviews promptly and professionally, demonstrating your commitment to excellent service.
Engaging with customers improves the chances of your shop being shown in the top search results, including Google Shopping, builds trust, and encourages others to choose your business. See this page for more.
Leverage Local Link Building
Building high-quality local backlinks strengthens your local SEO efforts. To succeed with local link building, you must identify authoritative local directories, industry associations, and community websites and seek opportunities for partnerships or guest blogging. Acquiring backlinks from reputable local sources with a strong online presence can significantly boost your local search rankings.
Monitor and Analyse Performance
Regularly monitor the performance of your Google Shopping campaigns and track key metrics such as impressions, clicks, conversions, and geographic data. Utilise tools like Google Analytics to gain insights into customer behaviour, preferences, and geographical distribution. Use these insights to refine your local SEO strategy and optimise your campaigns for better results.
Here are some posts about e-commerce tracking and analysis that you may find useful ⬇️
Final Thoughts
Leveraging Google Shopping for local SEO can amplify your online visibility, attract local customers, and drive traffic to your online store. By following these precise tips and how-tos, you can optimise your product feed, utilise local inventory ads, implement structured data markup, optimise landing pages, encourage customer reviews, leverage local link building, and monitor performance effectively. Embrace the power of Google Shopping to unlock remarkable growth for your local business in the digital marketplace.