Stålhästen started in 2010 with the idea to create a classic, stylish and sustainable bike for everyone. Today, there are over 20,000 Stålhästen bicycles on the streets in Sweden. The bicycle industry is highly competitive and Stålshästen faced challenges in standing out among competitors and reaching potential customers. In 2020, Stålshästen approached Bidbrain for a solution.
The Background
Stålhästen is a popular bicycle store based in Sweden. At some point, they found that their Google Smart Shopping solution was not delivering the desired results. They needed a new solution that would help them increase their return on ad spend (ROAS) and conversion value as well as improve overall brand visibility.
After an in-depth analysis of the client's Google accounts and their stock, Bidbrain recommended trying a new strategy. Bidbrain suggested using a combination of feed optimisation, ad formats, targeting options, and bid adjustments to increase their chances of reaching their target audience and achieving their goals.
The Problem
Stålhästen's main problem was a lack of brand awareness and product visibility leading to lower sales. Without a strong presence in the market, potential customers were not aware of the brand or its products, which was limiting the growth opportunities.
The Approach
To address this, Stålhästen started a collaboration with Bidbrain to develop a targeted marketing strategy by focusing on
increasing brand awareness

increasing product visibility

improving ROAS

creating targeted campaigns focused on Stålhästens key products and target audience to drive sales and feed optimisation.
The strategy proved to be working right at the start. Stålhästen started seeing a gradual growth in numbers right away:
the conversion value increased from 70,211 SEK in October 2020 to 130,546 SEK in November 2020
after 12 months, Stålhästen saw an increase in ROAS by 605%.
Then, in mid-2022, Stålhästen started selling cycling spare parts. The company launched a whole new set of product offerings, while already having an established stock. This was big, and so the marketing strategy needed to be tweaked to be able to deliver further.
For Stålhästen, getting their existing and new offerings noticed by the customers on Google Shopping and Google Ads—not even to mention getting stable conversions—demanded a tailored approach. We recommended that Stålhästen should use Bidbrain Campaign Manager to create customised segments based on a combination of product type and historical data.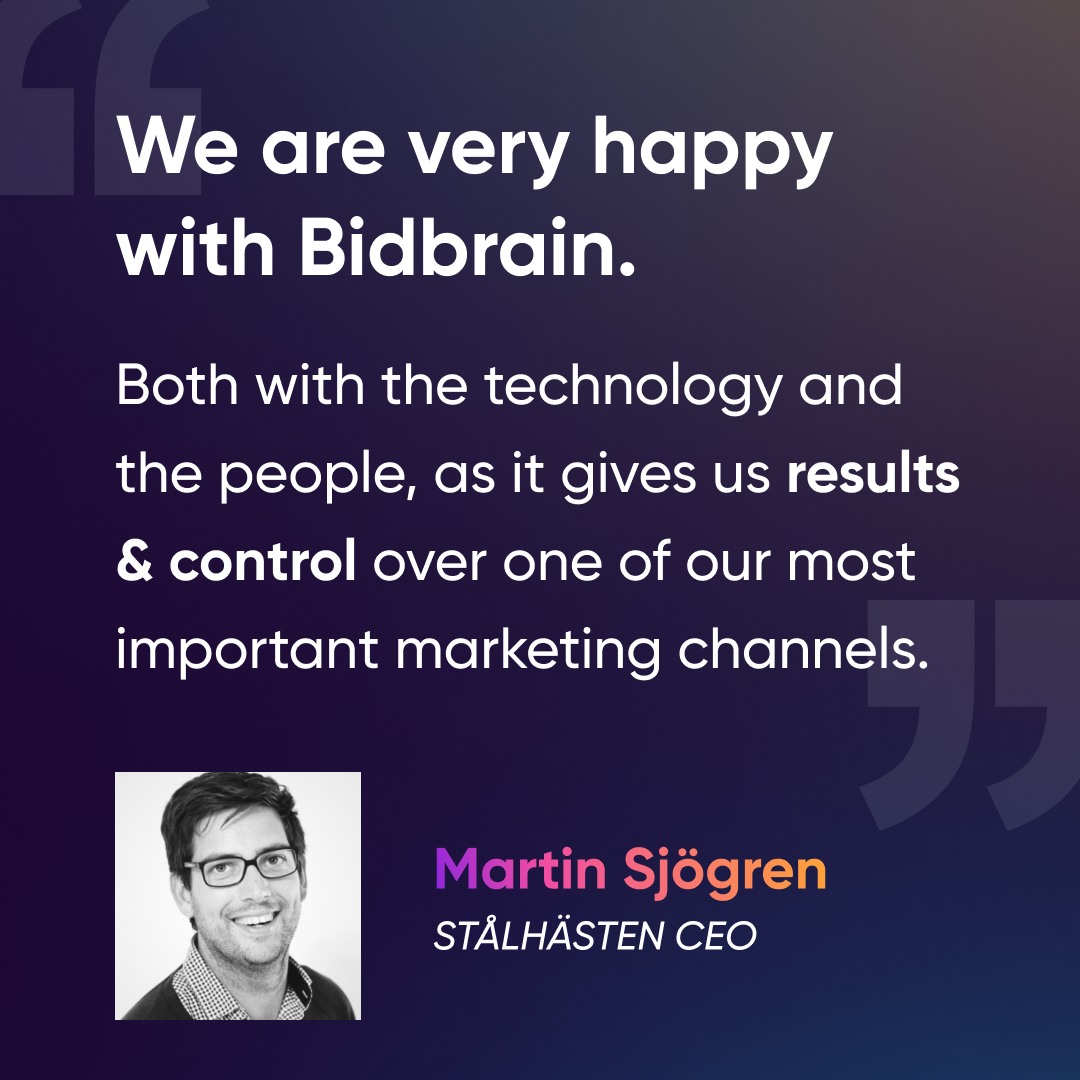 Product Feed Optimisation
Before launching campaigns, Stålhästen's product feed needed to go through an overhaul. Stålhästen used Bidbrain's Feed Checker to find out what was missing and what needed improvement. The product feed was revised and updated with all the essential and extra data and information about the existing and new products to ensure the feed was fully campaign-ready.
Then, for each campaign, a stand-alone product feed in an XML format was created. Structure-wise, the feeds were simple, yet effective. For example, the following attributes were included in the bikes and accessories (Cyklar) feed:
id

title

description

link

Image_link

price

condition

availability

gtin

mpin

adult

identifier_exists

sale_price.

An example of bikes and accessories Google Shopping product feed for Stålhästen
A lot of attention was paid to the contents in the description field—the texts were compact but, at the same time, they provided the most essential information about the products to be able to capture the attention of a potential customer.
Campaign Optimisation

Stålhästen Google Shopping campaigns grouped by product types in Bidbrain Campaign Manager
Having optimised the product feeds, Stålhästen used Bidbrain Feed Checker to find out what was missing and how to improve the three separate campaigns, with their own ROAS targets and budgets for each. The campaigns were based on three product segments:
Elcyklar—electric bikes

Fyndhörnan—items on sales

Cyklar—bikes and accessories.
The Results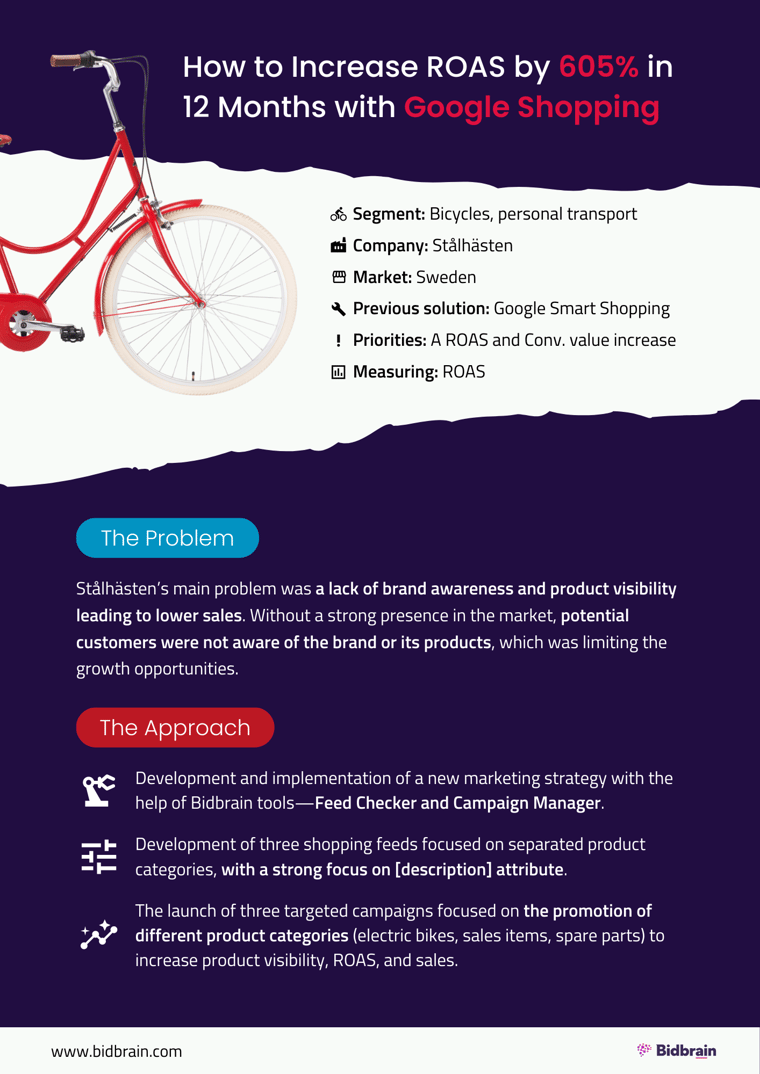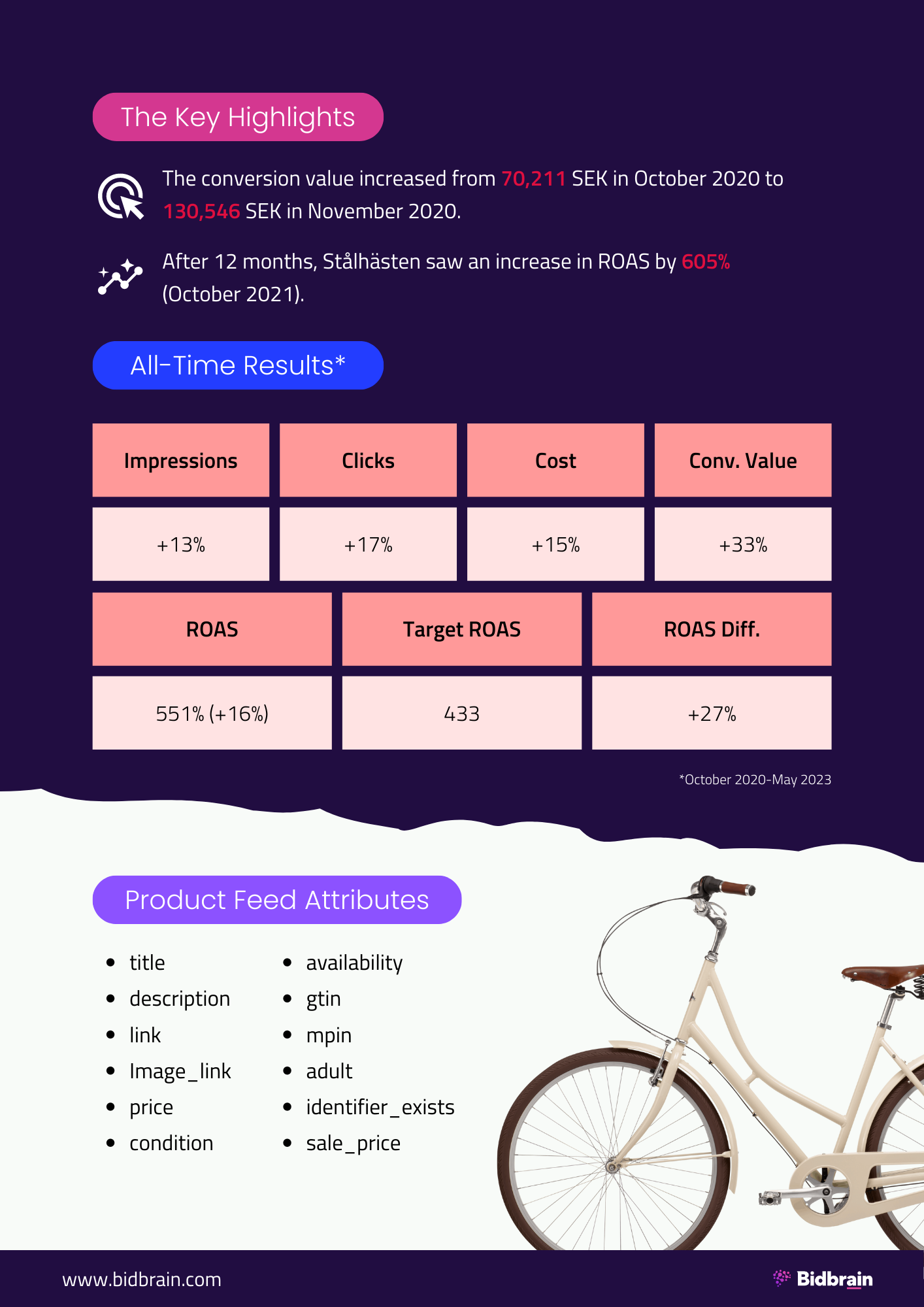 Through this approach Bidbrain was able to increase Stålhästen's ROAS from 473% in January 2021 to 1232% after one year, demonstrating the success of the strategy. Stålhästen were delighted with the results of how the new strategy was delivering the desired results. They have since continued to work with Bidbrain to further optimise their campaigns and have seen continued success in their e-commerce business.