6 Essential Google Shopping Optimisation Tips [+Free Guide]

Anton Marchenko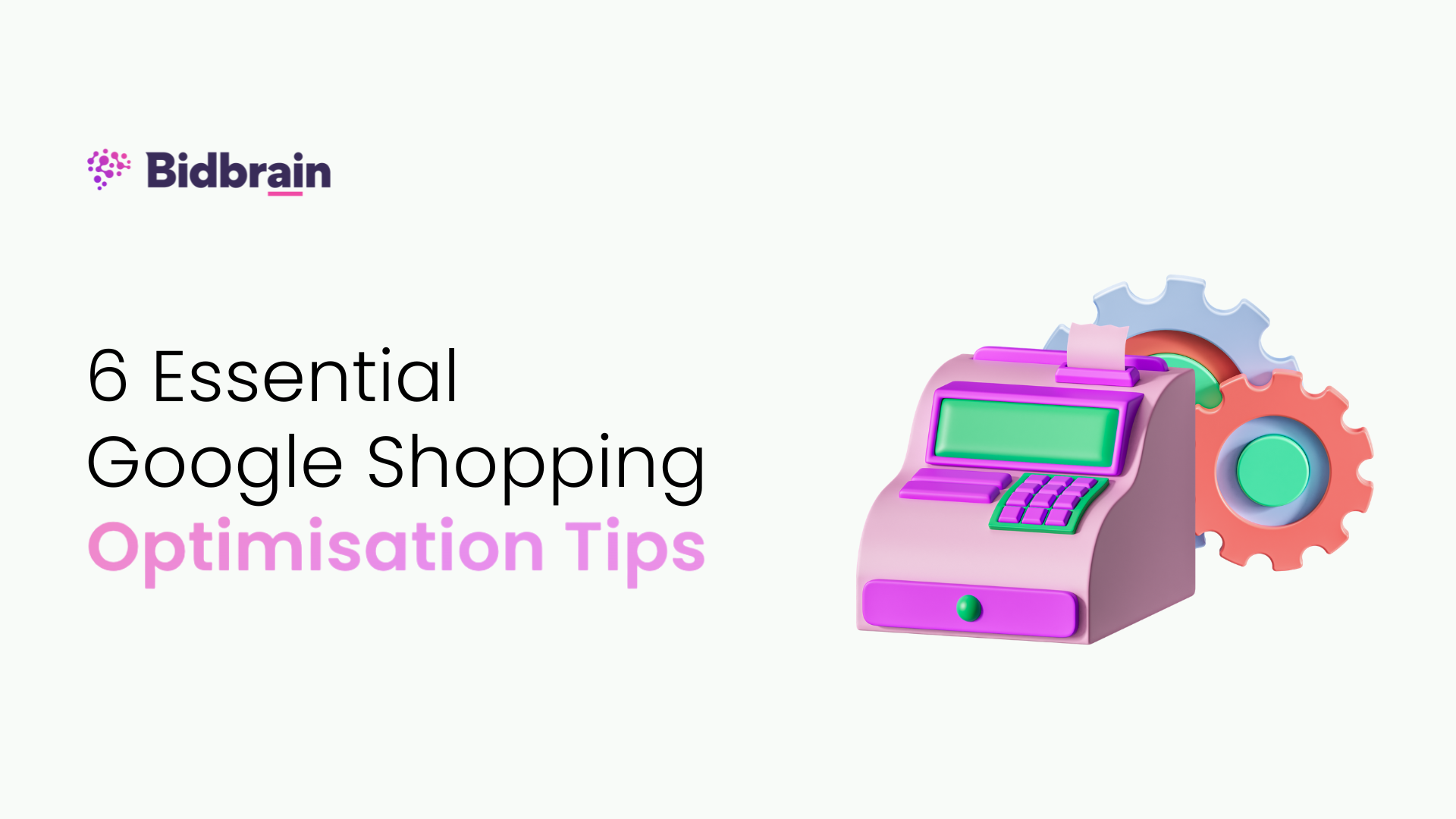 In this article, we'll cover the essential tips on how to optimise your performance on Google Shopping—from getting the feeds and attributes sorted to improving bidding and campaign strategies, and firing up automated solutions. Also, there's a free guide inside this blog post!
Separate High- and Low-Performing Products
Loser products negatively affect your performance, so spot them ASAP.
🏆Spot the winning and loser products on a regular basis by comparing their performance and costs. Trying separating the products by target ROAS.
🎰Try lowering the bids for loser products and increasing the bids for winning products to see if it makes a positive impact.
❌If one of your products has been underperforming for a long time, consider excluding its product ID. You can either stop pushing them to your Merchant Center or exclude the products from the product listings (Pmax) or Product groups (standard shopping) in Google Ads.
🙈In some cases, consider hiding the products that are low in stock or out of stock. By doing this, you may secure that your budget is not spent on items that don't bring profit.
📦Be transparent with offerings. Ensure that the product attributes not evident in the image are conveyed to the potential buyer in the title. Also, make sure the title says all about the product, e.g. colour, size, etc.
🔖Reprice carefully. Reprice your products based on solid justification, whether a seasonal one (sale, last items remaining, etc.) or global trends within your industry (luxury goods, home appliances, etc.).
💰Segment your campaigns by price. This way you'll be able to separate between cheaper and more expensive products because bidding the same amount of money on a £10 and a £100 product would not be reasonable.
Set up Audiences
👥Use in-market audiences to identify shoppers frequently researching products similar to your store's offerings across the web based on their search and browsing history.
📢Create audience signals if you are using Performance Max. Provide the most comprehensive information about the audience's portrait (interests, demography, etc) and behaviour (e.g., people who have already made a purchase or abandoned their cart, use the intent based on keywords, etc) to PMax to get the best possible outcome. Read more about PMax ads optimisation here.
🙌🏽Use your store's existing customer data to attract more similar shoppers and/or build new audiences.
Use Negative Keywords
Use negative keywords to improve your campaign's performance. By implementing negative keywords, you can achieve the following.
❌Block unrelated, poor- and non-performing keywords. For example, exclude keywords that include colours of what product is not available in your store.
💰Save the budget and use it for more relevant keywords to save funds and allocate them for further investment in keywords that bring clicks and sales.
🖱️Increase CTR and conversions. By excluding unrelated and poor-performing keywords, your can push your product to customers who are more likely to purchase from you because they'll be seeing offerings that are relevant to their interests and intent.
👍🏽Improve the relevancy of ad groups. Negative keywords can help strengthen your ad groups' relevance both by making them appear to a more relevant audience and by channeling a unified message to target audiences.
Define Your Bidding and Campaign Strategies
Chose Your Bidding Strategy
There are six types of bidding models in Google Shopping. You can choose one or combine them to make the most out of your efforts on Google Shopping.
💡Performance Max works well for lead generation, shop visits, and online sales. It is relatively easy to use, especially for marketers that are new to Google Ads. Also, PMax is a handy solution for cases when you need to set up a campaign quickly. Read more about how to improve ads performance in PMax here.
🖱Maximize Clicks is aimed at bringing as many clicks as possible. This model is good for boosting brand awareness and growing the visitor database.
🛒Maximize Conversion Value prioritises sales growth. To use this model, you'll need to assign conversion values for the actions you want the customers to take and check if your daily budget is within the range that suits you.
📊Target ROAS (TROAS). A great choice if you have lots of data and provided conversions and conversion revenue. Use it if your Google Ads conversions drive tangible returns on investment.
💡Enhanced Cost-Per-Click (ECPC) is a hybrid model combining manual bidding and machine learning algorithms—you provide the bids and Google picks the auctions they think would suit you. ECPC is a good choice if you're not tied to a strictly defined conversion volume or simply want to save time and keep control over your bids.
🧑🏾‍💻Manual Cost-Per-Click (CPC) gives you full control over your bids, with no automation involved. At the same time, manual CPC is time-consuming, so it can be considered a good fit for starting out with a new campaign, getting the needed data, and then proceeding to a hybrid or fully automated campaign time, e.g. Maximise Conversion Value, Smart Shopping, etc.
How Bidbrain Can Help Optimise Your Bidding Strategy
👍Bidbrain uses transparent AI bidding to reveal the data that belong to you by visualising the bidding & keywords data on the product level.
💷You can activate products without historical data with a special algorithm and unleash the potential of hidden high performers among your products.
📈You can dig out insights unavailable in Performance Max and Smart Shopping, such as the transparency of the search terms contributing to conversions, the detailed performance of individual products and keywords, etc.
Ensure the Campaigns are Consistent
🗃️Use ad groups and product segmentation. Segment products by product type in addition to detailed attributes, especially if you sell niche products. Use add groups to divide the ads with similar goals.
🌐Optimise product landing pages. Inaccuracies in data (product price, shipping policy, product title, etc) and imagery between that of Google Shopping and a landing page can lead to poor customer experience—make sure they are fully synced.
Optimise and Enrich Your Product Feeds
Tune Up Your Primary Feed
Even though the primary feed—Google Merchant Center primary feed—is usually not enough to showcase the products on Google Shopping the way they would make your products really pop and bring actual conversions, this feed type is the backbone for making your shopping campaigns effective.
Ensure the data in your primary Google Shopping feed is complete and correct. This is important because transparent and accurate shopping feed data would guarantee that you follow Google's terms and policies. By this, you would avoid getting notifications, alerts, and your Google accounts suspended.
Add More Feed Types
Now, that your primary feed is all neat and comprehensive, try out different shopping feed types.
📑Google Merchant Center supplemental feed allows you to enrich your primary product feed with dozens of additional attributes.
📑Dynamic remarketing feed. With this feed type, you can bring in potential shoppers that have already interacted with your products but have not purchased them yet.
📑Local inventory feed. Go with this one if you have a physical store.
📑Promotions feed is good for running campaigns that include discounts, free gifts, and shipping offerings.
📑Use Manufacturer feed if you are selling your own products to get more control over how they are presented on Google Shopping.
📑Product rating feed. If you have 50 or more reviews on a product, you can choose to have them displayed alongside your Google shopping ads by adhering to the feed requirements.
Read more about the different types of Google Shopping feeds here.
How Bidbrain Can Help With Shopping Feed Optimisation
Use these Bidnrain tools to make sure your feeds are flawless.
📝Product title optimisation automatically rewrites the product titles based on keywords that convert.
🗄️Bidbrain feed manager can help you manage an unlimited number of feeds and keep them sorted.
🔎Bidbrain feed checker will run hourly data feed checks and notify you if any issues are found before the products are uploaded to the Google Merchant Center.
Automate and Run Experiments
The process of Google Shopping optimisation is not set in stone and is a recurring activity, so consider doing the following regularly.
💡Try out different feed types—this way you can improve ad spend, increase CTR, and improve ROAS.
💡Mix bidding models. Sticking just to one bidding model may work but you may be losing out on a much higher potential so try working with different bidding strategies and models.
💡Automate. Automated solutions for Google Shopping can ensure the accuracy of your data, help improve ROAS, and get more clicks and conversions. Read more about Google Shopping automation tips here.
For more detailed tips on Google Shopping optimisation, download our guide.