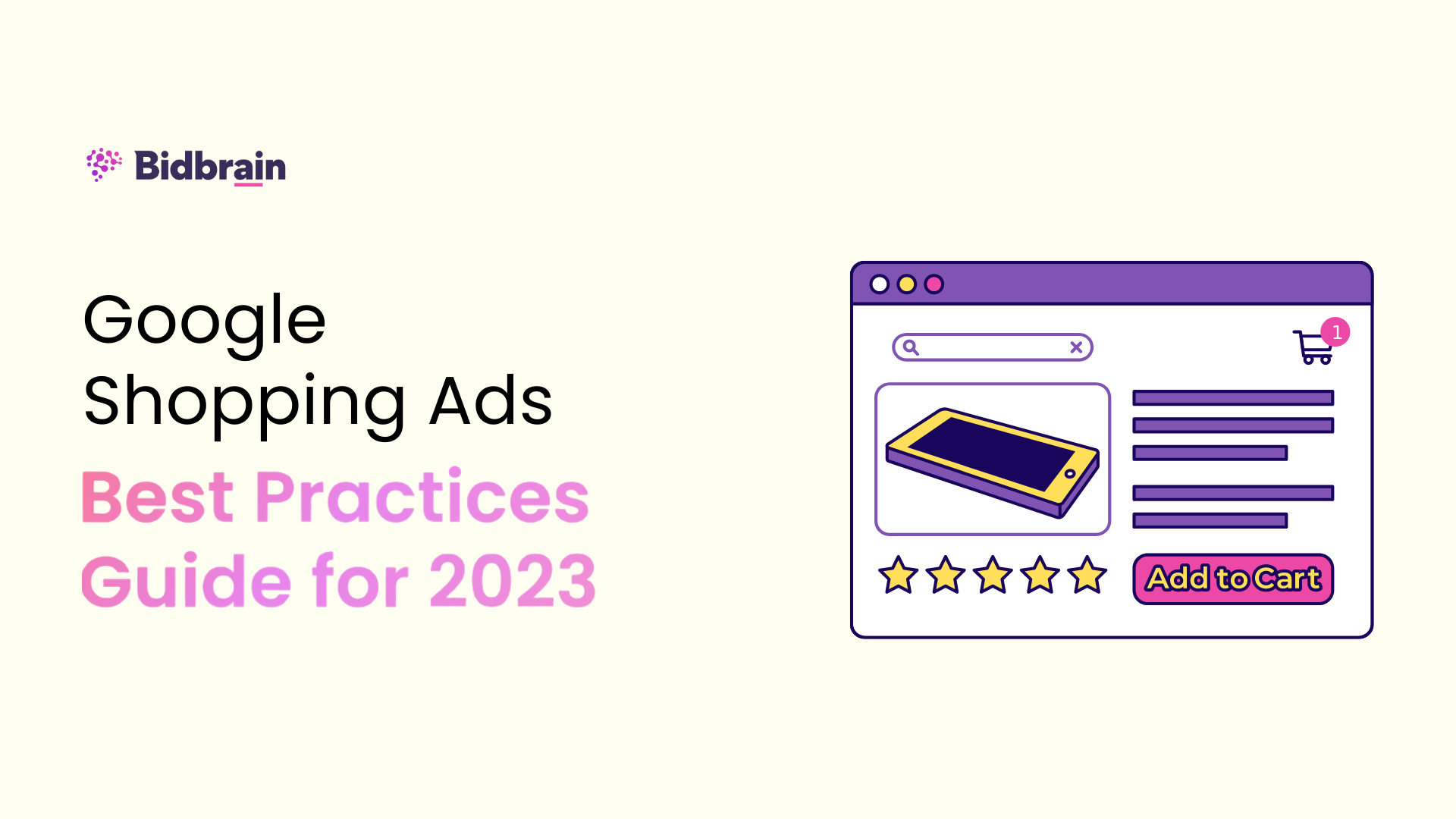 If you're looking for a way to increase your online sales, Google Shopping ads could be the answer. But running successful shopping ad campaigns requires more than just setting up Google accounts and launching ads. To ensure your shopping ad campaigns are successful, you need to be aware of the best practices for running Google Shopping ads.
In this blog post, we'll discuss the best practices that can help you get the most out of your Google Shopping campaigns and maximise your return on investment. From understanding the basics to optimising your campaigns, learning and following these best practices will help you create effective Google Shopping ads campaigns.
Understanding the Basics of Google Shopping Ads
What are Google Shopping Ads?
Google Shopping ads are a type of pay-per-click advertising that displays products from your online store directly in Google search results. A Google Shopping ad is a type of paid search ad that appears at the very top of Google search results in a form of a product listing. It provides online shoppers with a visual representation of the goods you're selling, including product image, price, description, etc. making it easier for customers to find what they're looking for. A click on a Google Shopping ad will take the user to the product URL you provided, e.g. a product landing page on your store's website.
How do Google Shopping Ads Work?
Google Shopping platform is free to use, you can showcase goods on it free of charge. But if you want to get more out of it you should consider running shopping ads.
To run Google Shopping ads, you'll need to connect your online store's product catalogue (uploaded in a form of a feed file to Google Merchant Center) to Google's advertising platform—Google Ads. The basic steps include the following.
Create a Google Merchant Center account.

Create a Google Ads account.

Upload a product feed—Google Merchant Center primary feed—with all the data about your products to Google Merchant Center.

Configure shipping and tax settings (the latter is for the US only).

Get your product feed approved.

Set up a Google Ads campaign by choosing which products you want to promote and set a bid for each product group.
Each step above has its undertones and nuances that you should take into account—we'll cover those in the best practices for running Google Shopping ads later in the article.
If you're running your store on a specific e-commerce platform, check out one of the related blog posts ⬇️
Shopify
WooCommerce
Why Use Google Shopping Ads?
Many shoppers start searching for products by looking them up on Google. They browse through search results, product offerings, and text visual ads while looking for the desired goods. That is why Google is literally the place to be for any online store because it allows reaching out to a vast audience of potential customers.

Out of all the results a user gets after hitting the Search button on Google, Shopping ads do stand out because they appear at the top of the SERP (search engine result page) above any other results on the page and provide the customers with all the essential information about your products in condensed form. This ability to catch the eye of shoppers right away may eventually result for you in the following benefits.
Increased visibility. As was mentioned, Google Shopping ads appear at the top of search results, increasing the visibility of a business's products and attracting potential customers.
Targeted audiences. Google Shopping ads target people who are actively searching for products online. This increases the likelihood of reaching the right audience and making a sale.
Optimised ROI. Google Shopping ads are a cost-effective way of advertising because they use a pay-per-click (CPC) model. This means you only pay when someone clicks on your ad. Plus, you get more control over ad spend by setting a budget.
Data Insights. Google provides businesses with data insights about their Google Shopping ads performance, including the number of clicks, impressions, and conversions. This information can be used to make informed decisions about how to optimize the campaign for better results.
Mobile-friendliness. Google Shopping ads are designed to be mobile-friendly. This means that you can reach potential customers on the go, increasing the chances of making a sale.
What Are Google Shopping Ads Types?
Product Shopping ads are generated depending on the product data you provide in the Google Merchant Center. They contain a product image, title, and price, as well as the name of your store or business, directly in the ad. Merchant Center automatically generates Shopping ads depending on the data in your product feed.
Local inventory ads (LIA) are generated by merging product and inventory information from your Merchant Center account. Local inventory ads allow you to promote your in-store inventory to people near your store. When someone searches for a product on Google, your ad will appear along with information about the product's availability and price at your store.
If a customer clicks on your LIA ad, they'll be taken to a local storefront page where they can see more information about your store, directions, and additional products available in-store. Additionally, you can add store pickup options directly on your local inventory ads. For more information on LIA, check this page.
Google Shopping Ads Best Practices
Optimise Your Product Feed
Make sure that your product feed is complete, accurate, and up-to-date. This does not include product images, descriptions, and prices only. To get the best results possible and avoid issues, make sure you do the following.
Provide all the products with unique product IDs. For duplicate products—e.g. a product is represented in multiple feeds—create a stand-alone ID each time.
Create coherent product titles and descriptions. Avoid keyword stuffing.
Provide all the possible attributes. This includes extra attributes, like GTIN, availability, custom labels, etc.
Use high-quality product images in compliance with Google's rules and policies.
Avoid data discrepancies. This means your shopping feed data must always be up-to-date fully mirroring the information on your landing pages in your store. E.g. if a product is unavailable and your shopping ad says the opposite, this can result in customers bouncing off and receiving warnings from Google.
Reupload your feeds regularly. Do it even if your feeds don't get updated at all.
Be precise with product categorisaton. If done poorly, this can significantly affect the outcome of how your Shopping ads work. The best here approach would be to build up a coherent, detailed route to the product in question—from the top-level category to the most specific one possible. Check the example below.
| | |
| --- | --- |
| ❌Wrong Product Categorisation | ✅Right Product Categorisation |
| 👎🏽Computer Components > Input Devices > Portable Scanners | 👍🏽Electronics > Electronics Accessories > Computer Components > Input Devices > Portable Scanners |
For more tips on Google Shopping feed optimisation, download this free guide.
Also, check these blog posts ⬇️
Optimise Your Bidding and Campaign Structure
One of the most important aspects of keeping everything streamlined with your Google Ads campaigns is to neatly sort the campaigns' structure. Your Google Shopping ads campaign optimisation should revolve around grouping products based on the attribute.
You could use any of the attributes for that and divide the products differently, for example, by
id

brand

custom labels

margin

bestsellers and losers, etc.
This way you'll be able to divide products into goal-oriented groups, e.g. seasonal products would go into a stand-alone basket and, hence, would be used in seasonal campaigns.
Based on your product groups, you can create ad groups that will be used in your product ads campaigns. The structuring of ad groups is similar to product categorisation when managing your product feeds (e.g. Electronics > Electronics Accessories > Computer Components > Input Devices > Keyboards or Beauty Products > Men > Electric Shavers), so it is important to group ads thoroughly.
Finally, you should make use of different bidding strategies. Rarely does a store use just one bidding approach because there are a lot of factors that impact the probability of a product group making its way to an actual purchase like
seasonal demand

fashion trends

psychological factors (e.g. BOGO)

location

device, etc.
Based on all that, you should define a bidding strategy for each ad/product group, plus also
set up a budget limit

choose between (or mix) automated and manual bidding

utilise the scheduling feature to meticulously tweak your campaigns on the go.
As a result, you can structure campaigns in the following ways based on your stock, industry, market context, and business goals:
one universal campaign for all products

one campaign for multiple products

multiple campaigns for one set of products

multiple campaigns for multiple products.
Read these blog posts for detailed tips on bidding and campaign optimisation ⬇️
Use Negative Keywords
Negative keywords are a perfect way for online stores to avoid getting unwanted results. With negative keywords, you can do the following.
Save money and spend it on more profitable keywords

that actually correlate with your products and push your ads to the right audience.

Exclude keywords that are unrelated to your stock

—those that seemingly fall into the same category as your products but spoil the whole SERP party for you because those keywords trigger your ads and show them to an irrelevant audience. For example, all sneakers are shoes but not all shoes are sneakers. If you're selling sneakers you could make your ads more intent-oriented by excluding keywords from broader categories.
Improve the relevance of ad groups. Negative keywords can help boost the relevancy of your ad groups by making them appear to a more relevant audience and delivering a coherent message to consumers.
As a result, the right use of negative keywords can help you get more clicks and conversions, and improve ROI. By the way, Google has recently introduced account-level negative keywords for Google Ads that offer more brand safety and a handier way of managing negative search terms.
Use Audiences
Audiences (which can be found in the lower left part of Google Ads UI) are another great way for structuring your Google Shopping campaigns.
Use retargeting and dynamic remarketing to engage with an audience that has already interacted with your store through Google Shopping ads, be it
one-time customers

loyal shoppers

customers that bounced off, e.g. they abandoned their cart or just keep browsing your stock without any further action. etc.
To make use of retargeting, you'll need to set up a remarketing tag. With retargeting and remarketing, you'll be able to get through to your potential customers and gently push them toward conversion.
The other option that you can use is similar audiences. It can help you reach new customers that Google's algorithm considers converting based on your current customer database.
❗NOTE In May 2023, similar audiences will be going away. As Google says, more efficient solutions are to come.
Make Use of Promotions
Add promotions to your regular Google shopping feed to entice customers who are looking for discounted products. Highlighting sales and merchant promotions has the potential to convert even reluctant buyers. Note that if using promotions is your regular method of selling, creating a feed under Google promotions instead of a free listing might be a better idea. You can use promotions to push
discounts

free shipping




free gifts.
❗NOTE Make sure you fit the criteria to be able to use promotions in your Google Shopping ads.
Benchmark Against Competitors
Competitor benchmarking is a powerful feature that helps you evaluate the efficiency of your Google Shopping campaigns. This includes making use of a number of tools and metrics.
Use Automation
The need to incorporate automated solutions in marketing activities is becoming a bigger necessity every day. But this should be done wisely. If you're still reluctant to try out complex automated solutions just think that a basic feature that was mentioned above for scheduling your ads is nothing but an automated solution. The same goes for automated bidding.
If done right, automation can help you save time, money, and effort, and even improve numbers, including revenue. For example, you can advantage of the following.