10 Tips for Optimising Google Performance Max Shopping Campaigns

Anton Marchenko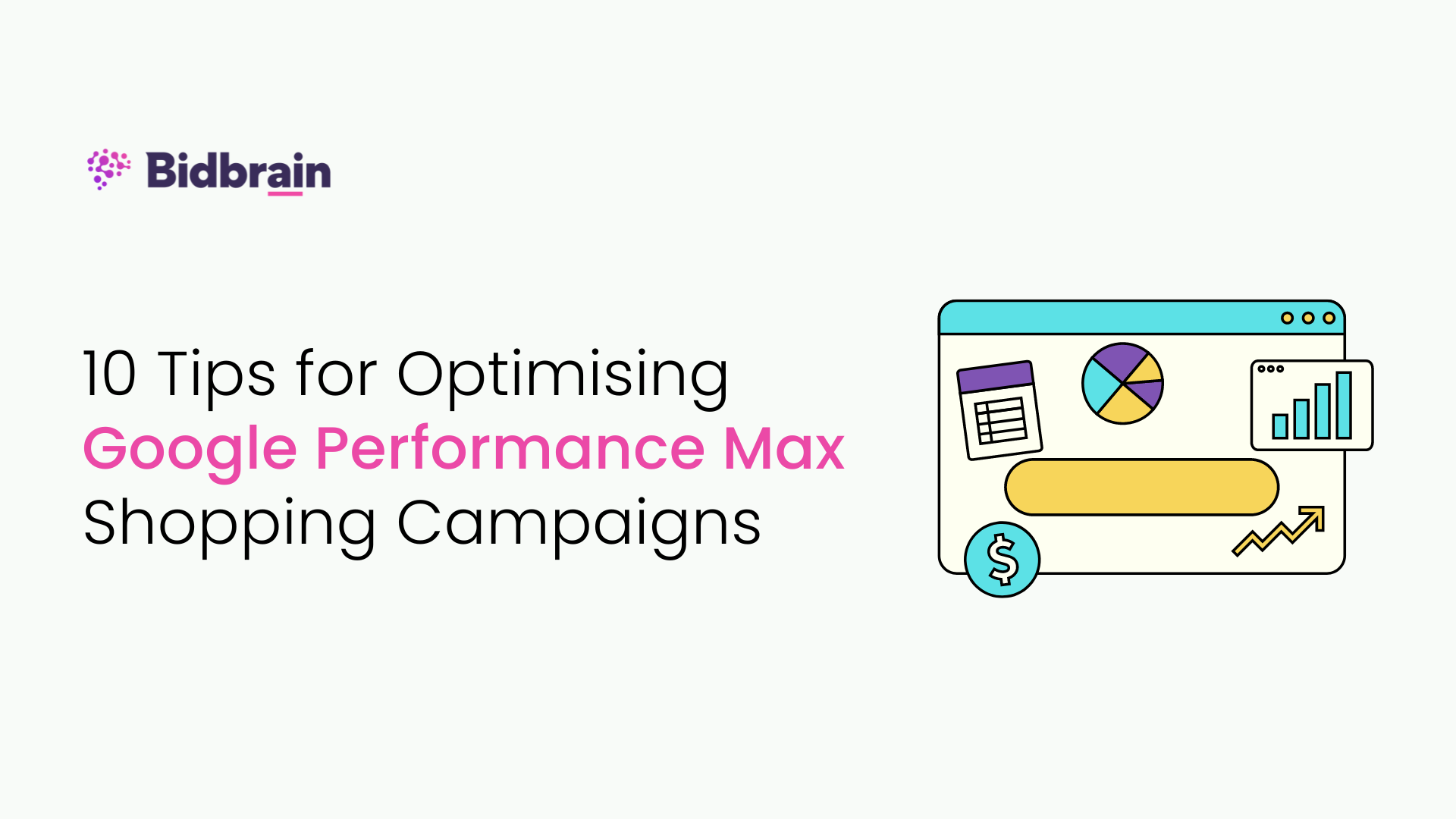 Google Performance Max is a relatively new campaign type that uses machine learning to optimise your ad performance across multiple Google networks. With the right approach, Google Performance Max Shopping campaigns can serve as a powerful tool for e-commerce businesses looking to drive more sales and revenue without investing too much in the supervision of online marketing campaigns. In this blog post, we will cover the most essential Google Performance Max optimisation tips.
Set Clear Goals for Your PMax Campaigns
Setting clear goals for your Performance Max campaigns should always be your starting point. Remember two things when setting goals for Performance Max campaigns.
Goals could include increasing sales, improving conversion rates, generating leads, attracting new customers, etc.—so

clearly define what you want your customer to do right from the start

.

Define primary and secondary action for a smooth customer journey

—read more about the type of actions in PMax campaigns in

this blog post

.
Use High-Quality Assets: Images, Videos, and Texts in PMax Campaigns
Performance Max campaigns use visual machine learning to analyze product images, so it's important to use high-quality images that accurately represent your products. This will help the algorithm match your products with the right audience and maximise your ad performance. Outside of price, the first thing that a potential customer checks out is product images. Always use high-quality product images that match key features and benefits in the product description. Also, remember to:
Provide many high-quality assets as possible.

This way you'll be swaying PMax towards generating more or less predictable ads visual-wise. If you miss some assets PMax will generate ads that may not look attractive, hence affecting their potential.

Use the 'Ad strength' indicator to replace low-quality assets with better creative.

Make sure assets comply with

Google's ad requirements

.
❗NOTE There are specific cases when you may not need to provide all the assets—check this blog post for more.
Segment Your Products into Listing Groups
One of the key benefits of Google Performance Max Shopping campaigns is that they allow you to segment your products into different groups based on attributes such as price, brand, and category. This makes it easier to target specific audiences with the right products and to optimise your bids and budgets accordingly. Take the time to segment your products into relevant groups.
Sort Your Assets by Asset Groups
When you create a Performance Max campaign, you add images, logos, headlines, descriptions, and videos to make an asset group. Google Ads automatically mixes and matches these assets based on the Google Ad channel (YouTube, Gmail, Search, and so on) through which your ad is delivered. You can create multiple asset groups per campaign to group assets by theme or to group assets with different targeting. And remember that
At least one asset group

is required for each operation.

Each campaign can have

a limit of 100 asset groups

.

An asset group cannot be shared

between campaigns.
Use Exclusions in Your Performance Max Campaigns
Exclusions are a crucial component of Performance Max campaigns. They allow you to exclude audiences, brands, locations and placements that are not relevant to your campaigns. By using exclusions, you can optimise the campaigns and reduce the likelihood of your ads showing to irrelevant audiences, which can lead to wasted ad spend. Read this detailed blog post on how to use exclusions for PMax campaigns.
Optimise Your Bidding Strategy
With Performance Max, you have two bidding choices.
Maximise conversions (with optional target CPA).

If you have a new account, begin with this one so that Google can get as much data as possible. This option works well if you

already have some historical data

seeking to maximise conversions within a certain budget.

Maximise conversion value (with optional target ROAS).

With this approach, you can maximise conversion value while maintaining a fixed budget or return on ad spend. It works for accounts that have historical info as well.
Plus, try to
set a reasonable budget

—don't go with either a small or a large budget, particularly if you're just getting started with PMax

use your average budget size

as a standard.
Keep Your Product Shopping Feed Streamlined and Fresh
Regardless of the method you use to manage your product feeds, follow the advice below.
Always keep your product feed organised and updated.

Submit/resubmit the feeds every 30 days (even if you did no updates).

This ensures that the data is current and relevant.

If you have many feeds, don't move items from one to the other.

Define a product maximum for large feeds.
Check these blog posts for more tips on Google product feed management ⬇️
Use Negative Keywords to Filter Out Irrelevant Searches
Negative keywords are a great way for optimising your Google Performance Max campaigns. Negative keywords are those search queries that you don't want your ads to appear for. For example, you can exclude the queries for kids' boots if you sell men's boots only. By using negative keywords, you can filter out irrelevant searches and focus your budget on the most promising opportunities. Learn more about using account-level negative keywords here.
Leverage Additional (Third-Party) Automation for Your Performance Max Campaigns
Automated third-party tools can positively affect the efficiency of your PMax campaigns. Bidbrain, for example, can provide you with
handy feed management tools
advanced AI bidding algorithms
automated product title rewriting
activation of products without historical data
extraction of insights unavailable in PMax and Google Shopping, and so on.
Check this page to learn more about Bidbrain's features.
Monitor and Adjust Your Performance Max Campaigns
As with any campaign, it is crucial to keep track of their performance. Recurringly check on the metrics and make changes to your bids, targeting, and ad formats to optimise your campaigns. Regularly check the Insights page to analyse PMax campaigns thoroughly.
Final Thoughts
Optimising your Google Performance Max campaigns is crucial for achieving the best possible results and maximising your return on investment. Whether you're an experienced digital marketer or a newbie to online marketing and advertising, remember to take the time to fine-tune your PMax campaigns, test different strategies, and stay up to date with the latest trends and best practices in the industry.